AMERICAN

ARGENTINE

BARBECUE

BREW PUBS

CAJUN

CANYON DINING

CHINESE

COFFEE HOUSES

COSMOPOLITAN / ECLECTIC

FRENCH

GREEK

INDIAN

ITALIAN

JAPANESE / SUSHI

MEXICAN

MICRO BREWERIES

MIDDLE EASTERN

PARK CITY RESTAURANTS

SEAFOOD

STEAK HOUSES

SUSHI

THAI

VEGETARIAN RESTAURANTS

VIETNAMESE

ALPHABETICALLY LISTED


SALT LAKE CHILD FRIENDLY RESTAURANTS

SALT LAKES BEST BREAKFAST & BRUNCH

BEST DELI's & SUB SANDWICHES IN SALT LAKE CITY

THE BEST BURGERS IN SALT LAKE CITY

THE BEST PIZZA IN SALT LAKE CITY

THE BEST PHILLY CHEESESTEAKS IN SALT LAKE CITY

DOWNTOWN SALT LAKE RESTAURANTS

SUGARHOUSE RESTAURANTS

SALT LAKE VALLEY RESTAURANTS

SANDY UTAH RESTAURANTS

SALT LAKE CATERING FIRMS

BEST of SALT LAKE'S BUFFET'S

NEW & NOTEWORTHY

SALT LAKE CITY DINE O' ROUND

CHICAGO DOG'S in SALT LAKE CITY

SALT LAKE'S BEST RESTAURANTS OPEN ON SUNDAYS

THE BEST OF SALT LAKE'S PATIO DINING

SALT LAKE'S DINNER & DANCE CLUBS

SALT LAKE CITY VISITOR INFORMATION

SALT LAKE CITY SKI INFO

SALT LAKE CITY HOTELS

VISIT PARK CITY





Information for Utah Restaurant Owners: Alcohol training and education seminars that are required by the State of Utah State Required Training Seminars


Salt Lake City Buffet Style Restaurants





I Have Not Been A Big Fan Of Buffet's! But, if this is what you are looking for, who are we to frown on this style of food. Here's the Best of Salt Lakes Buffets!


Sunday Brunch @ The Grand America
The Grand America's Sunday Brunch is a favorite among Salt Lake City locals and visitors alike. Featuring freshly prepared, all-you-can-eat delicacies, this award-winning brunch represents an unprecedented culinary experience. Sunday Brunch is truly a "Grand" experience, with stunning ice sculptures and linen-draped tables-and an extravagant selection of brunch favorites plus fresh seafood, roasts, sushi, and more.
Seating from 10:00 a.m. - 2:00 p.m. Reservations Suggested, Phone: 801.258.6708
Prices are as follows: Adults, $45.00, Children (5-12), $22.50, Children 4 and under are free.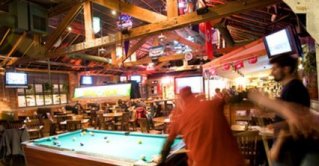 Sunday's All-You-Can-Eat Breakfast/Brunch Prime Rib Buffet only $14.95 @ Fiddler's Elbow
Now serving Saturday's & Sunday's most popular breakfast and brunch! Locals have turned Fiddlers into one popular joint on the weekends. This American roadhouse serves what you're looking for in a casual, comfortable atmosphere. On Sundays between 10am and 2pm have the All-You-Can-Eat Breakfast/Brunch Prime Rib Buffet. It is one of Salt Lake's Finest! 10' by 6' high definition screen plus eight other TVs. Salt Lake Wi-Fi Hot Spot. Must be 21 or older to get in.
1063 1/2 East 2100 South - Phone: 801.463.9393
4 Miles from Downtown, Travel Time: 10 - 15 minutes




For Soup & Salad Buffet's, Try Sweet Tomatoes
All-you-can-eat quality soups and salads at affordable prices. Two Locations in Salt Lake, 7455 South Union Park Ave in Midvale, phone 801.352.9980 & in Sandy at 10060 South State St. phone 801.352.9001.



For Mongolian Stir Fry, Try Chinese Gourmet
All-you-can-eat "Chinese" if you want to call it Chinese Food. Your best bets would be to stick to the salad bar, the Mongolian Stir Fry and the dessert bar. The rest of the offerings are sub par. The staff is very eager to please. 4425 South State St. Salt Lake City, UT 84107 (801) 293-8190









Where to go for buffet's in Utah. These are Salt Lake's Best Buffet Style Restaurants.



Visitors