AMERICAN

ARGENTINE

BARBECUE

BREW PUBS

CAJUN

CANYON DINING

CHINESE

COFFEE HOUSES

COSMOPOLITAN / ECLECTIC

FRENCH

GREEK

INDIAN

ITALIAN

JAPANESE / SUSHI

MEXICAN

MICRO BREWERIES

MIDDLE EASTERN

PARK CITY RESTAURANTS

SEAFOOD

STEAK HOUSES

SUSHI

THAI

VEGETARIAN RESTAURANTS

VIETNAMESE

ALPHABETICALLY LISTED


SALT LAKE CHILD FRIENDLY RESTAURANTS

SALT LAKES BEST BREAKFAST & BRUNCH

BEST DELI's & SUB SANDWICHES IN SALT LAKE CITY

THE BEST BURGERS IN SALT LAKE CITY

THE BEST PIZZA IN SALT LAKE CITY

THE BEST PHILLY CHEESESTEAKS IN SALT LAKE CITY

DOWNTOWN SALT LAKE RESTAURANTS

SUGARHOUSE RESTAURANTS

SALT LAKE VALLEY RESTAURANTS

SANDY UTAH RESTAURANTS

SALT LAKE CATERING FIRMS

BEST of SALT LAKE'S BUFFET'S

NEW & NOTEWORTHY

SALT LAKE CITY DINE O' ROUND

CHICAGO DOG'S in SALT LAKE CITY

SALT LAKE'S BEST RESTAURANTS OPEN ON SUNDAYS

THE BEST OF SALT LAKE'S PATIO DINING

SALT LAKE'S DINNER & DANCE CLUBS

SALT LAKE CITY VISITOR INFORMATION

SALT LAKE CITY SKI INFO

SALT LAKE CITY HOTELS

VISIT PARK CITY





Information for Utah Restaurant Owners: Alcohol training and education seminars that are required by the State of Utah State Required Training Seminars
Salt Lake's Best Cosmopolitan / Eclectic Restaurants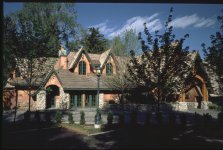 Tuscany
Awarded Wine Spectator's Award of Excellence and Three Stars by the Salt Lake Tribune, Tuscany Restaurant offers the perfect charm to any occasion. As if in an Italian village, Tuscany provides a beautiful landscape and excellent cuisine for any event including business meetings, family celebrations, wedding functions, or small dinner parties.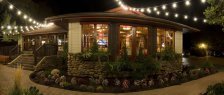 Franck's
Chef Franck Peissel creates mouthwatering and intricate French inspired American dishes for his small, intimate restaurant, Franck's. Worthy of his four stars from Salt Lake Tribune, the highest possible rating, Chef Franck's food is true culinary excellence.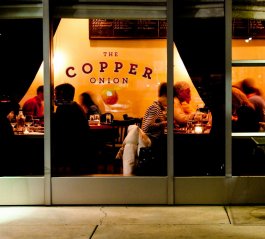 The Copper Onion
The Copper Onion, located in the heart of downtown Salt Lake City, next to the Broadway Theatre on 300 South is one of the new additions to the growing Utah "foodie" scene. Former NYC chef (and native Utahn) Ryan Lowder now brings his personal take on New American cuisine to his own kitchen with an approach inspired by his passion for Utah's outstanding farmstead ingredients and his experience as a chef cooking his way through Barcelona, NYC and South America. The Copper Onion serves a wide array of vegetable side dishes and a menu designed to explore and share. An insistent focus on the freshest and best is paramount; sausages and burgers are ground daily, bread is baked and ice cream is made in house, offering casual diners an exceptional experience at affordable prices.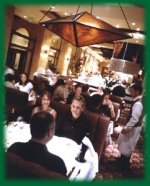 Bambara Restaurant at the Hotel Monaco
Salt Lake City's liveliest restaurant features a striking, contemporary interior and central exhibition kitchen. The brass, marble, and glass elements of this historic landmark inspire high energy and fun. Guests are comfortable in anything from business suites to blue jeans.



Tin Roof Grill in Sandy
Simply Wonderful! A Joy To Dine At! Love The Ever Changing Specials! Some of the reviews that were sent to us. It's obvious that everything is made from scratch and with lots of care. The tapas being created daily is a great way to sample their menu. Offering a variety like pizzas, pastas, salads, and even Thai style noodles. Some of my favorites are the pulled pork sandwich, the lettuce wraps, the pork ribs, they are all fabulous. This is what I enjoy, a wonderful example of a small family owned restaurant where they really care about making great food. There's nothing rushed here, just a relaxed friendly atmoshpere with delicious unique entrees.
Open 11am - 9pm Monday - Thursday, 11am - 10pm Fridays, 10am - 10pm Saturdays, 10:30am to 8pm Sundays
9284 South 700 East
801.566.5226




Log Haven
Breathtaking Scenery and Award Winning Cuisine... Log Haven has received a long list of awards and commendations including Best Salt Lake City & Best Canyon Restaurant! Log Haven is a beautiful log mansion, serenely nestled among pines, waterfalls and wildflowers, perfectly showcasing Utah's Wasatch National Forest, yet is only minutes from downtown Salt Lake City hotels. Enjoy scenic outdoor dining in summer amidst pines and fresh mountain air! In winter, relax by our warm fires and revel in the quiet serenity of the canyon. Romance has always been in the mountain air surrounding Log Haven. The distinctive dining destination is now a favorite spot for fine dining, weddings, anniversaries and celebrations of all kinds.












These are the Top Rated Restaurants in Salt Lake City.



Visitors