Index / Cuisine







Salt Lake's Best Burgers

Taste the Pure Delight of Salt Lake City's Best Hamburgers




Not long ago, people ate lots of ordinary burgers. These burgers were perfectly acceptable. They were inexpensive, satisfied the appetite, and tasted much better than many of the other foods that people were eating. Plenty of burger places were opened and they served billions and billions.

But there was something missing - the need for something satisfying and real, something basic and good, something fresh - a place with a burger soul. A place that burger lovers could call their own and feel pride in recommending to their friends. Here are a few such Salt Lake burger places that deserve high marks.


Lucky 13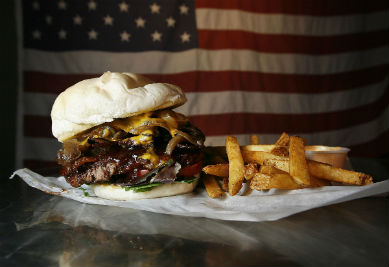 I finally got a chance to stop by and find out for myself what my friends have been telling me. That this bar (yes, a bar, you have to be at least 21 to get in) serves up one of the best burgers you are going to get in Salt Lake! Sure, they have a full bar menu of appetizers, some salads and sandwiches, but every time I have gone back for lunch, everyone there is downing huge burgers. Located a half a block west of Spring Mobile Ballpark, home to our Salt Lake Bees, it looks like other bars with pool tables, plasma TVs, video games, etc. But, what sets this apart from other bars is their focus on really great burgers, and under $10 to boot. And that includes fries and the tax! It has been written that no matter what the fixings, the burger should support a "visceral delight." And Lucky 13's does! These 7 ounces of never-frozen ground chuck are served on local Stoneground buns with plenty of mixed greens and more.

Some of the burgers to try are: the Celestial burger which comes with smoked bacon, grilled onions, cheddar cheese and barbecue sauce or the Big Benny which touts double the meat and double the cheese. I'll start my diet tomorrow. I have had the "Breath Enhancer" Garlic Burger twice now, It is fabulous!. Once the Bees season starts this place is going to be packed before and after the games, but I have a feeling it is going to do well on non-game nights as well. Access from downtown or south valley is easy because the 13th south Trax station which is right there. A 1,400 square foot patio opened in the spring and I am told it will come complete with BBQ offerings.
Lucky 13, 135 W. 1300 South, Salt Lake City. 801.487.4418.
The kitchen is open daily from 11am to 8pm and until 11pm on Thursdays to Saturday nights.



So Sorry To Report That Guzzi's Hamburgers & Fries Has Closed Its Doors!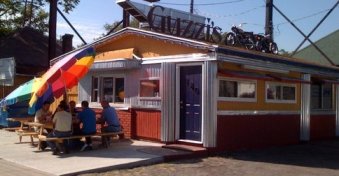 This tiny joint on 8th South and 2nd East has two Moto Guzzi motorcycles on the roof, and a menu that's less fancy than some street carts, but when the burgers are this good (and reasonably priced, and includes fries) it hardly matters. They have some of the best fresh made burgers and fries in Salt Lake! Expect a wait for your burger for two good reasons, first, it doesn't get cooked until after you order it. And second, this place is getting more and more popular everyday. Two of my favorites, the blue bacon burger was amazing, and when it seems everyone cooks garlic burgers these days, and instead of sprinkling some garlic salt and calling it a garlic burger, these guys mince fresh garlic and mix it into the meat before they cook it. It's easy to see that the owners have a dedication to creating a great-tasting "cooked-to-order" burger. And I applaud them. Keep it up Josh. Hint, request the grilled onions, yum.



Five Guys Burgers & Fries
I have finally broken down and admitted that Five Guys Burgers are down-right good burgers. I tried them a few times over the years while vacationing back east, but was not impressed. Here in Salt Lake though, I kept seeing filled parking lots during the day, which over-flowed during the dinner hours, so, lets try them again. Then a second time, and a third. Five Guys Makes A Seriously Good Burger! My apologies that it took me so long to include your offerings. Careful of the side orders of fries though. Their small serving can feed three, way too much, but good as well.
Five Salt Lake Locations

West Valley City - 3513 South 2700 West - 801.963.8003


Salt Lake City - East Millcreek - 3167 East 3300 South - 801.484.2480


Midvale/Ft. Union - 1146 East Fort Union Blvd. - 801.565.8100


The Commons at SouthTowne - 10391 South State St. - 801.523.7440


Bountiful - 235 North 500 West - 801.292.3002



Fast Food Burger Joints in Salt Lake
Some Good with the Bad! The Good, Crown Burger makes a seriously good Pastrami Burger! But please, stay away from the overpriced, undertasteful onion rings. Locals say this place serves some of the Salt Lakes best fast-food burgers because they are charbroiled. The unexpected decor is reminisce of a European hunting lodge with chandeliers, and a working stone fireplace. Don't be mistaken; while Crown Burger is something of an upscale fast foodery, you still order at the counter, wait for your number to be called, and pick up your paper-wrapped food yourself. This small chain's signature burger is a cheeseburger piled high with pastrami. Alot of it! The menu also offers a variety of other burgers and sandwiches, gyros, fishburgers, fries, etc. Stick to the pastrami burger, you will love it! Now the bad, the onion rings are flat out horrible! They are fried, thin, tasteless and overpriced! So, now that you know what to stay away from, the food is good, fast and they have drive-thrus. No alcohol is served.
Three Salt Lake Locations
Salt Lake City - Millcreek/Brickyard - 3190 South Highland Dr, Salt Lake City
Downtown Salt Lake - 377 East 200 South
Downtown Salt Lake - 118 North 300 West










Sometimes you just gotta have a big, juicy burger at the best a city offers. These are Salt Lake's Best Hamburger Spots.



Visitors